Berlin based artist and painter Martin Missfeldt shows visual arts and modern painting. He paints and draws with oil-color, gouache, watercolour, Indian ink, digitally and humor. Since 1985 he has painted a lot of partially very various pictures. In spite of all differences in subjects and techniques a certain humorous kind is common to all works.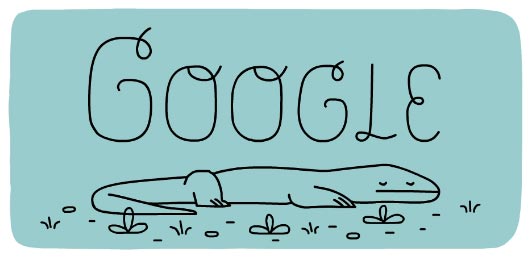 Komodo Dragon Google Doodle
Actual Google doodle: Komodo dragon! How much do you know about Komodo dragons? (Nice Google search game to celebrate Komodo Dragons) Here are some answers:
Watercolor-Sketch (Kingfisher)

Kingfisher (Watercolor Sketch), Febr. 01, 2013, Watercolor on paper
Ink-drawing of Albert Einstein

Ink-drawing: Albert Einstein (October 1., 2012)
Pencil drawing of Georg Baselitz

"Georg Baselitz" (pencil drawing)
Missfeldt has studied Fine Arts and Free Painting in the Masterclass of Georg Baselitz at the University of Arts in Berlin/Germany (1988 - 1994). Since then the painter turns on modern painting. This online exhibition shows up to pictures and picture-details. This Websites shows examples of all work phases. Please enjoy and have fun ...
How to paint a realistic eye
Art & Pictures