Cartoons: The most famous giraffes in art history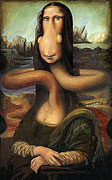 Cartoon Mona Lisa
I drawed and painted more than 120 art giraffes cartoons. With fine brush and without scruple. Since 1992, I used giraffes to arrange funny pictures. Since 1999 I use masterpieces of art history as a source of inspiration.
Why Giraffes? In 1992, I painted a picture in which a cowboy in the desert hang on the gallows. The cowboy hung a long time there, so the neck was very stretched. I was surprise when I noticed that the cowboy looks like a giraffe, and I immediately recognized the humor potential of the long necks of giraffes.
All images are drawn or painted on paper (usually 42 x 30 cm) with pencil, fineliner, watercolor or gouache. From the first sketch to the finished cartoon it took mostly several days, sometimes weeks. The shown "famous giraffes in art history" is a funny fun for art lovers and art lovers, but they are also for laymen an entertaining style, the fascinating world of art to learn. Full art humor, funny cartoons and great masterpieces! Have fun!
Art History with Humor: Cartoon art
On this website I have divided the cartoons into individual art historical epochs. The chronology of the origin is not kept. In addition to about 60 cartoons with art historical motifs, there are also a number of graphics that are more dedicated to human problems and needs.