Many painting beginners are faced with the question: which colour should I use? Nowadays, almost all classic colours are available in practically packaged tubes or boxes, so you have a wide choice. This article is intended to help you develop criteria that will make your decision easier.
Roughly simplified one can divide into:
Material properties: which colour works how?
Durability / Sensitivity: how fragile is the finished image?
Health hazards / toxicity: how harmful are the paints or solvents used?
Painting technique: how easy or difficult is it to paint with the respective colours?
Expenditure: how time-consuming are preparatory and post-processing works?
Costs: how expensive is the whole thing?
Comparison of oil paint with acrylic, tempera and watercolor paint
One can imagine that these topics are very complex in each case. Almost every area can be differentiated in small parts. But that should not happen here. Instead, things are generalized and summarized. In this respect, this article does not release you from the obligation to inform yourself further and to try things out. This article should only reduce start worries and encourage you to start with pleasure and to value a possible "failure" as a positive step.
Material properties: which colour works how?
The following notes apply in general. Of course, there are still large differences between individual colors (pigments). So the list describes rather how the respective binders work.
Oil paint: a broad spectrum of painting techniques allows almost any visual effect.
Acrylic paint: wide spectrum of painting techniques allows almost any visual effect
Watercolor: luminous, lively, airy - the white carrier makes the glazed colour "shine".
Gouache / Tempera: rather earthy and matt, as the colours are usually painted opaque.
Coloured pencils: rather matt and dull (exception: watercolor pencils which develop their typical watercolor luminosity by subsequent painting with water.
Durability / Sensitivity: how fragile is the finished image?
The same applies here: there are great differences between the colour pigments in terms of durability. The following information is again of a more general nature.
Oil paint: Most stable in the long run. The special drying process (oxidation instead of evaporation) protects the colour pigments especially.
Acrylic paint: Relatively "modern paint", so that the durability cannot be determined exactly over the centuries. Probably also very stable and durable.
Watercolor: The binding agent "gum arabic" is usually only wafer-thin around the color pigments. Therefore, watercolor paintings are very sensitive in the long run, both to moisture and to light (or electromagnetic radiation, especially UV radiation). Watercolor paintings by famous artists of past centuries are therefore stored in a strictly protected place and can only be seen in exhibitions in rooms with darkened light.
Gouasche / Tempera: Since these farebn usually look dull and earthy anyway, they can hardly lose their luminosity.
Coloured pencils: Very fragile, since the colour pigments are not fixed correctly at the base, but are only pressed into the surface of the picture carrier.
Health hazards / toxicity: how harmful are the paints or solvents used?
Certain pigments can be highly toxic (e.g. with lead or mercury), many others are harmless. Here, however, it is primarily a matter of the painting agents themselves.
Oil paint: The painting medium of the oil paint (linseed oil, nut oil, etc.) is usually harmless. However, the thinner is difficult, usually turpentine or turpentine substitute - as are the corresponding cleaning agents. These substances are usually very volatile, i.e. they evaporate at room temperature and reach the respiratory tract and conjunctivae. This can lead to considerable damage to health, especially at high concentrations and over a long period of time.
Acrylic color: Acrylic color: since acrylic color is water-soluble, hardly dangers exist (only if poisonous color pigments are used).
Watercolor: Watercolor is also water-soluble, there are hardly any dangers (only if toxic color pigments are used).
Gouache / Tempera: Gouache or tempera paint is also water-soluble.
Coloured pencils: No danger - not even potentially toxic pigments are used here, which considerably reduces the colour palette.
Painting technique: how easy or difficult is it to paint with the respective colours?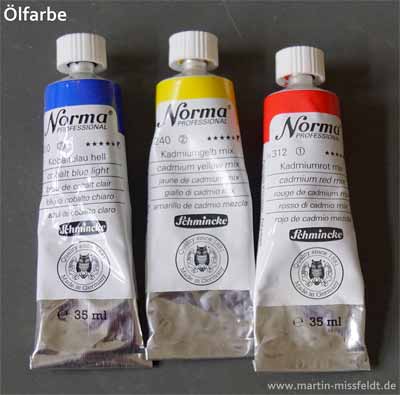 Each colour requires a certain technical processing. The spectrum of possibilities is enormous, and with increasing experience, painting becomes all the easier. The following list contains only a few hints that are especially relevant for beginners:
Oil paint: The main problem with oil painting is usually the use of rags, several brushes, solvents, etc. for hand painting. On the other hand, the mixing of colours is usually relatively simple: what you have on the palette will also look like this on the canvas (if you have applied a reasonable primer). The lengthy drying process is rather difficult for many: oil paint does not dry by evaporation, but by oxidation. This often takes many days. You can use this delay if you work on a picture for a longer period of time.
Acrylic paint: Acrylic paint dries by evaporation - so the drying process takes hours (or even minutes if you apply very thinly). In addition, working with water as a thinner and cleaner seems to be much easier for many. It is not without reason that many painting beginners start with acrylic paint.
Watercolor: Watercolor painting can be exaggeratedly called "water painting". Because water plays with the Aquralle a still much larger meaning. A common "beginner's problem" is that the watercolor often looks different in the wet state than in the dried state - it then often becomes much paler. It is only by applying several layers of glaze that the paint gains the luminosity it is supposed to have - but it is also possible to span the bow very easily: once the layer of paint has been applied too thickly, it can usually no longer be corrected cleanly. In short: watercolor painting is extremely difficult at the beginning, if you don't just want to "experiment", but want to achieve certain effects. Water is quite resistant ...
Gouache / Tempera: behaves largely similar to acrylic paint.
Coloured pencils: are very intuitive and easy to paint. What you see remains the same (at least for a few months / years).
Expenditure: how time-consuming are preparatory and follow-up work?
Of course it depends on the size of the painting you are working on, how many brushes and other painting utensils you use (painting technique) and so on. The following hints are therefore only a thought-provoking impulse:
Oil paint: very elaborate and extensive preparatory and finishing work required. Priming is an essential step. Cleaning the working materials (brushes, painting knives, palettes, etc.) also takes time. However, this work is mandatory because uncleaned brushes in particular can no longer be used after just one or two days. In addition, new rags are needed all the time. Besides you need an easel for oil painting. The painting has to remain standing for weeks before it is at least dry to the touch - this is often a practical space problem for hobby painters.
Acrylic paint: as before, but everything is easier because the cleaning agent is water. This is especially kind to the skin because you can wash your hands with soap afterwards.
Watercolor: This technique made no problems: both cleaning the brushes and transporting and storing the utensils is quick and takes up very little space.
Gouache / Tempera: Similar to acyryl painting
Coloured pencils: That's very simple: no need to dry the picture, no need to clean it, everything can be easily and space-savingly stored away.
Costs: how expensive is the whole thing?
The costs depend primarily on the number or mass of the materials used. Roughly over the thumb one can say: the colors cost almost all the same much. This is also logical, because a main component of the costs are the color pigments - the respective binders are roughly the same. The big cost differences result from the environment: do you need an easel? How many brushes do you need? How large is the format of the picture? Do you need additional solvents or cleaning agents etc.?
Oil paint: relatively expensive due to easel, picture carrier (canvas on stretcher frame), solvents and cleaning agents, etc.
Acrylic paint: rather inexpensive
Watercolor: rather expensive, especially if you use good watercolor paper (e.g. handmade paper)
Gouasche / Tempera: rather inexpensive
Coloured pencils: very inexpensive
Conclusion: Testing!
Finally, a word about how to deal with the information of this Artiekl: basically, most people are interested in finding a suitable means of expression for their artistic and creative lust. This has a lot to do with painting technique: which colours and utensils are best for you? What can you work with quickly and effectively, what are the low costs? Ultimately, only everyone can find out for himself, there is no universal formula. Fortunately, retailers now offer their own starter kits for almost every technique for relatively little money. I can only encourage you to follow your instinct and try it out.
Those who tend to want to work postos should use oil, acrylic or tempera paint.
If you don't necessarily want to learn oil painting, you should start with acrylic.
If you want to paint realistically, you might be better off with tempera / gouache than with (sometimes very bright) acrylic paints.
If you like to experiment a lot (and have enough money for paper), watercolor painting might be the best way to develop your skills.
Good luck and have fun painting.
Read on