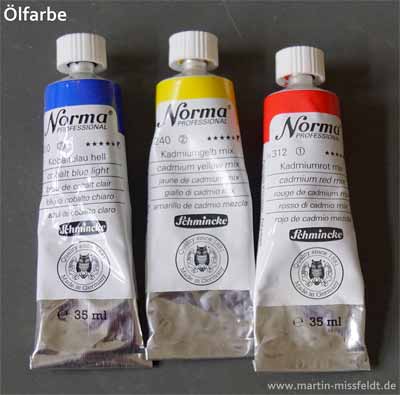 How dangerous is it to paint with oil colors? Is there a serious health risk? Yes and no - as often you have to differentiate ...
What exactly is dangerous, anyway?
Oil paint consists of colour pigments and a binding agent. To paint them - and to clean the brushes - turpentine oil or turpentine substitute is usually used.
Colour pigments: here there are some which can have a toxic effect, i.e. are toxic. However, only very few colour pigments really pose a serious risk. For a long time, this counted lead white, but today it is no longer common for this very reason.
Linseed oil or nut oil is usually used as a binding agent. This is harmless.
Often the paint still contains diluents (to make it pasty and spreadable). As a rule, they are also completely harmless.
The most problematic solvents are those used when painting with oil paint. Whether it is turpentine oil to dilute the paint or the brush cleaner, both contain sub-sets that are highly volatile. This means that some of these liquids evaporate at room temperature. These vapours, which represent the typical smell of oil painting, are relatively aggressive and can attack the mucous membranes.
In the short term, this is not a problem for most people, it only becomes difficult when you are permanently exposed to these gases over a long period of time. This can lead to chronic inflammation of the respiratory tract (mouth, throat, lungs). Quite a few professional painters have problems of this kind in the course of their lives.
Which colours / colour pigments are toxic?
Colour pigments can be very different in nature. There are natural or chemically produced pigments. Depending on which substances are the base substance, the pigment can have a toxic effect. Some of these toxic pigments are:
Kremserweiß (lead white) - also contains lead
Naples yellow (contains lead)
Pigments with a low toxicity include primarily colours with a metal content or based on metal compounds. For example:
Cadmium in colours such as cadmium red or cadmium yellow
Cobalt in colours such as cobalt blue, cobalt violet, cobalt green or cobalt yellow (aureolin)
Iron in Prussian Blue (Iron Blue)
Manganese blue
Tips for safe painting with oil paints
Overall, care should be taken to ensure that containers containing volatile solvents are tightly closed again immediately after use. The cloths with which the brushes are cleaned are often forgotten. These should always be packed in an airtight bag after work - or taken outside. In addition, you should always ventilate well in the studio / work room (at least 1 x per day airing through). One should not paint in living rooms with oil, but have for it a separate studio room, which can be sealed off airtight to the living area.
When buying solvents, thinners or brush cleaners, always pay attention to the information on the packaging. There are considerable differences with regard to toxicity.
Short-term contact with these materials is usually completely harmless and easy to tolerate. It only becomes difficult when you spend many hours a day for years in a poorly ventilated studio.
See also