Image Description
The motif of the octopus (squid) is suitable for a colour vision test. The octopus is one of the few animal species that can change its colour and adapt to its surroundings. As "images of art", color vision tests have hardly been processed to date, although they are not only aesthetic, but also address basic questions of perception, including the perception of art.
Does every viewer see the same or the same? What are the differences? I am not interested in the realistic reproduction of an octopus, but the motif is a means to an end to paint an exciting Bidl.
This version is intended as a sketch for a larger oil painting - like the "Chameleon" I painted a few days ago.
Material: Watercolours (Horadam bySchmincke) on Hahnemühle watercolour paper (275 g).
The work also includes a video showing the process of painting:
Video with this image
The following video shows the painting process as a time-lapsed video.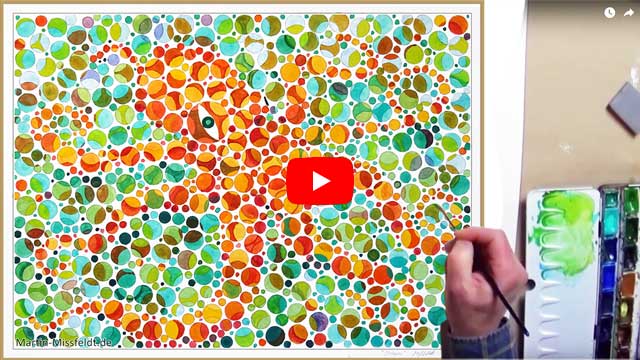 "Octopus (Visual Watercolor Test)", Speed painting, digital painting (Photoshop, Grafiktablett)
Please click to load the youtube-source.
Read more about ...