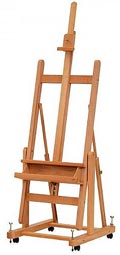 Studio easel
A studio easel is a heavy and stable easel. It holds the picture carrier (canvas on stretcher frame) in a vertical position, so that one does not ruin one's back during the permanent painting. In contrast to other three-legged easels, the studio easel has a very stable foot, which consists of two wooden beams firmly connected to each other. This H-shaped foot either lies directly on the floor or underneath it, there are small wheels at the corners, which can of course be locked. Even then, this easel type stands firmly on the floor at four corners.
This stability is a prerequisite for painting large pictures. Especially for artists whose picture formats are larger than 150 x 150 cm, a studio easel is indispensable. The essential characteristics of a studio easel:
Stable stand due to H-shaped base, some models with castors / wheels
Heavy (10 to 40 kg)
With slide (picture holder) at the top for clamping the screen
From vertical to approx. 10° inclination, some models can be tilted backwards by up to 90°.
Usually with wide storage area at the bottom of the crossbar (image support)
Suitable for large and heavy formats
Models with crank for pushing up and down (heavier) pictures
Of all easel types most expensive (250 - 800 USD)
Studio available?
Depending on how you work, a studio relay offers either more advantages or more disadvantages. The prerequisite is that you have a studio at all - in other words, a working space that essentially serves artistic production. Because you can't simply set up and dismantle the studio staff. Once it stands, it stands. And as a rule as long as you're an artist. It's so clunky that you can quickly bring it to the cellar at night and get it up again. Therefore: if you don't have a studio, you shouldn't get a studio easel.
Large image formats?
The second crucial point is the question of image formats. Of course you can also paint small formats on a studio easel - but if you work exclusively with small formats (max. 70 x 70 cm), this large easel is not worthwhile for you. This is just as well served with a portable easel ("acadamie easel") or field relay - especially since they are much cheaper.
Buying a studio easel
Shelf of a studio easel
A studio easel is one of the products that you don't like to carry through a department store to your car. It is simply too bulky and heavy. It is usually bought as a simple kit that contains the pre-assembled parts and can be stored in a transportable crate. The assembly is usually quite simple - if you can get an Ikea cabinet, you will also be able to handle the studio relay.
If you have a large need for artists, e.g. boesner, with a parking space nearby, you are well advised to take a look around. However, the really good Bösner studio relays are really expensive - compared to other suppliers. If you don't have a large art supplies store nearby, you can just as easily order the Atelierstaffelei on the Internet. They can then be conveniently delivered to the studio.
What to consider before buying?
There are a number of criteria to consider when buying a studio relay. Not everything is absolutely necessary, but one should know which key figures there are.
Material: Oiled beech wood is solid and distorts only relatively little due to weather conditions. It is therefore well suited as wood for an easel. Fir wood (pine, spruce), on the other hand, is not optimal because it is much more susceptible to the weather.
Weight: the heavier, the better, with a studio easel. Because thereby the easel gains stability. This is very important especially with large canvases, because otherwise the picture starts to "flutter" when painting the outside area. The firmer and more stable the picture, the better.
Wheels: whether the easel should have wheels under the foot or not depends on the studio. If you want to adjust it from time to time, it is much easier with wheels. In practice, it usually turns out that the studio easel is pushed back and forth from time to time due to the changing lighting conditions.
Storage area / storage box: a storage area underneath the crossbar can be very helpful for storing brushes, paints, rags, etc. there. If you have a painting trolley next to the easel, you probably don't need this storage possibility, for all others it makes sense.
Brush holder: Usually one paints with several brushes at the same time. Most artists clamp the brushes under the fingers of their hand, which also holds the palette. But for those who don't like it, a brush holder or a brush box might be a good idea.
Crank: Usually the cross beam is anchored in a rusted rail with the help of a pull-out hook. This is good and has proven itself. However, if you have a larger canvas on the easel, it can be quite difficult to put the picture up and down. So if you work with very large formats or don't have as much muscles anymore, a crank for raising and lowering the picture is a good idea. This element, however, is a considerable cost factor.
Electric easel: the luxury model among the easels, the M1 by Mabef, offers the possibility to regulate the height adjustment of the picture by a motor. Although this electric easel is very comfortable, it is only suitable for artists who have a correspondingly thick wallet.
Cross-bar / shelf width: the crossbar on which the picture is placed varies in width. Narrow are about 50 cm, wide are about 65 cm. The width of the painting support is especially important when painting large and wide formats (landscape formats). This is because in outdoor areas the picture quickly becomes fluttery - especially when gestural painting.
Maximum canvas height: almost all manufacturers offer information on the maximum picture height that can be set up on the easel and clamped from above. This maximum height depends on the length of the vertical center bar to which the image holder is attached. Who paints very large pictures should consider this value.
Maximum picture height: some providers still name the maximum picture height. This value should not be confused with the maximum screen height. What is meant by the image height is the question how high the crossbar can slide with the image.
Inclination possibility: some studio easels, but not all, can be inclined forwards or backwards. On the one hand, the angle of inclination plays a role for the illumination of the picture during painting (depending on the lighting situation in the studio). But it is also important for the painting position of the artist in front of the easel. Depending on whether one paints while standing or on a painting stool, one can tilt the picture into the optimal position. A slight inclination to the front as well as to the back is therefore recommended.
Alternatives to the studio easel
One can essentially distinguish five easel types from each other. Each type has advantages and disadvantages for certain uses:
Easel Types
See also / Read more