Image Description
Who's behind the mask of Jack Sparrow? The actor Johnny Depp (born 1963) is one of the best actors of our day. Numerous film roles made him famous.
Johnny Depp
Wikipedia says about Johnny Depp: "John Johnny Christopher Depp II (born 9.06.1963 in Owensboro, Kentucky) is an American actor living in France who is currently considered one of the highest paid character actors in Hollywood. Depp became internationally known at the end of the 1980s with the television series 21 Jump Street and achieved new popularity through the role of the eccentric Captain Jack Sparrow in the Pirate Series Pirates of the Caribbean." (Source) Johnny Depp has so far been nominated three times for an Oscar. That he hasn't won an Oscar yet is actually a scandal.
Captain Jack Sparrow (Pirates of the Caribbean)
Captain Jack Sparrow is a slightly scatterbrained pirate captain. With the cult trilogy "Cursed Caribbean" (narrowly: "Pirates of the Karibean") Johnny Depp went from star to superstar. He embodied the somewhat chaotic but very tricky Captain Jack Sparrow in such an ingenious way that many today equate John Depp and Jack Sparrow. The cunning and eccentric pirate is still unbelievable today: he embodies the unscrupulous egoist as well as the faithful friend. Finally a quote, as Johnny Depp himself assesses: "I think the name fits perfectly to me". Equally attractive, but by no means so ingenious, is her acting colleague Megan Fox.
Digital painted on PC
This picture was digitally painted on the PC. The graphics program was Adobe Photoshop (see also: graphics programs for painting on the PC), it was painted on a Wacom graphics tablet (Intuos3 A4). The painting process was recorded with an autoscreen recorder program and compressed to a time-lapse film with the help of Adobe AfterEffects. The actual painting process took about 3 hours.
Video with this image
The following video shows the painting process as a time-lapsed video.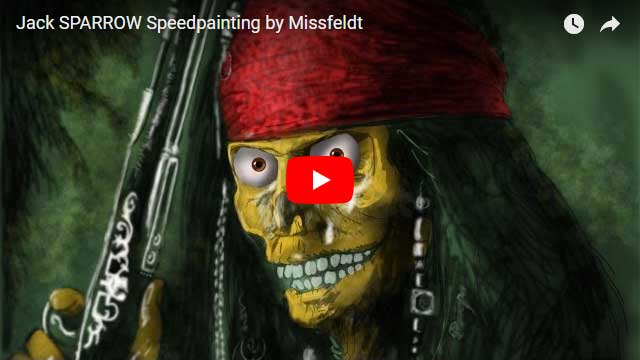 "Jack Sparrow (Johnny Depp)", Speed painting, digital painting (Photoshop, Grafiktablett)
Please click to load the youtube-source.
Read more about ...