Image Description
This watercolor picture shows the corona virus SarS CoV-2 as a color vision test. A look into the Google image search reveals that there is no "real" image of this virus. These are stock photos, which are 3d models that show the widespread idea of a virus as such.
That's why I painted another visual implementation of this virus. It is composed of numerous colored circles, which are overlaid by other circles in a glazed manner. This creates a complexity that can be seen in a greater visual distance than spatial depth. In other words: the many coloured circles are composed into spatial spheres at a sufficient visual distance.
At last, you cannot paint a virus "realistically", so this color vision test is a different visual realization.
The picture is painted with Horadam watercolour on Hahnemühle Torchon handmade paper. It measures 38 x 48 cm. The format of the sheet is 50 x 60 cm, so it fits easily into a picture frame.
Video with this image
The following video shows the painting process as a time-lapsed video.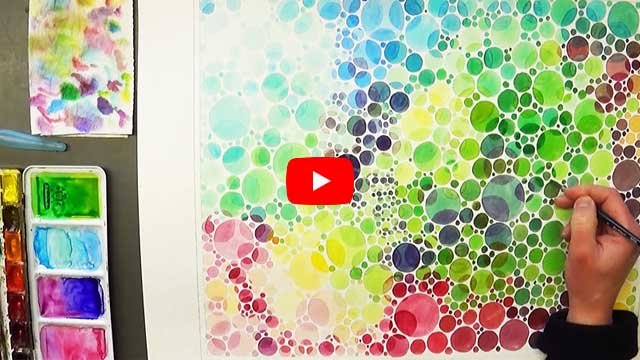 "Coronavirus Sars Cov-2 (colour vision test watercolour)", Speed painting, digital painting (Photoshop, Grafiktablett)
Please click to load the youtube-source.
Read more about ...