Image Description
The motif is a landscape painted as a colour vision test. As a model I used the painting "Feld mit Heuhocken" from my great-grandfather Friedrich Mißfeldt, who was also a painter. The picture is very disturbing, because it shows a free northern German landscape. It was painted in 1945. ...
In the video I describe my procedure: I take a digital version of my template and lay a grid over it in Photoshop on the PC. In addition I paint some white circles into it. The printed picture is then above (or next to) my watercolour. By observing the pattern I find a colour, which I mix and paint in the correct size on the paper (Hahnemühle Torchon watercolour paper, 285 gr/m²).
The entire painting process took about 3 hours, plus the preparation time and drying and coffee breaks.
Video with this image
The following video shows the painting process as a time-lapsed video.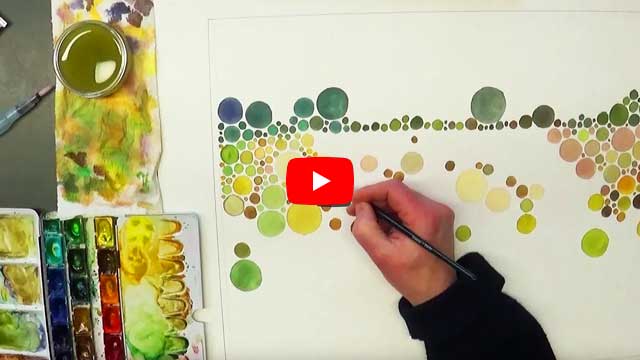 "Landscape watercolor painting (colour vision test)", Speed painting, digital painting (Photoshop, Grafiktablett)
Please click to load the youtube-source.
Read more about ...