Image Description
A watercolour portrait of Johann Wolfgang von Goethe - as an "extended colour vision test". The video below documents the painting process as time lapse. In the video you can see the printed template - an idealized oil painting by Joseph Karl Stieler from 1828. During the painting process, I oriented myself on this template and tried to recognize the respective color value, mix it with watercolor paint and a corresponding amount of water and then paint it as a color circle in the correct size on handmade paper.
This "question of scaling" or the different effect of an image depending on the viewing distance I find extremely exciting. It is becoming increasingly relevant, especially today - due to the increasing perception of images with digital media in a fixed target size. Who still goes to the museum and knows the overwhelming visual experience that a really large picture can trigger.
This picture also belongs to the series with color vision tests of "greats of German cultural history". More about Goethe at Wikipedia.
Video with this image
The following video shows the painting process as a time-lapsed video.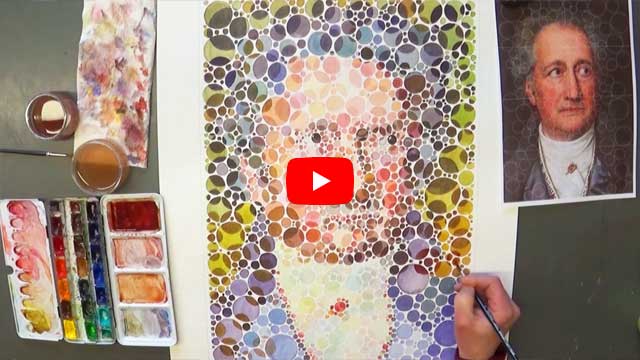 "Johann Wolfgang Von Goethe - Watercolor Portrait", Speed painting, digital painting (Photoshop, Grafiktablett)
Please click to load the youtube-source.
Read more about ...